Elevate your game (and lower your score) at Alabama's hilly Rock Creek
MOBILE, Ala. - You don't expect mountains this close to New Orleans, or to the beach, or to the bay.
Well, not mountains, exactly. But these here hills in lower Alabama, not far from the Redneck Riviera, make for a nice surprise at Rock Creek Golf Club
Located in Fairhope on Alabama's Eastern Shores, across wide Mobile Bay from downtown Mobile, Rock Creek is a short drive from the city, but the terrain changes dramatically, from low wetlands to some very atypical hills and impressive elevation changes.
"For the Eastern Shores, this is a golf course you aren't likely to see," said Head Professional Jeremy Little. "This is more like a course you're going to see in the mountains. It reminds me of a North Carolina course. There really aren't many like it in this area."
You notice that from the start, when you tee off with downhill on Nos. 1 and 2 - the latter a 434-yard par 4 and the top handicap hole in the course. A tee shot with a long-iron or fairway wood to the center will put you in good shape to the green, located at almost a right angle to the fairway. Careful: too much of a fade and your ball will trickle into the water from the sharply sloping fairway. Your second shot is over marsh to an elevated green with a false front that also slopes sharply back to water.
You do feel a bit like you're in the Carolinas on the first few holes, before Rock Creek flattens out in the middle stretch of the front nine. There are some interesting holes, but never anything too overwhelming. Aside from the elevation, Rock Creek smiles at you and says, "Go low."
It's 7,000 yards from the back tees as designed by Earl Stone, who's known for old-school, playable courses. The 79-year-old Stone is a throwback himself, eschewing assistants or apprentices. All but one of his 40-odd courses is in the Southeast; including at least 15 in Alabama. Rock Creek is the only one to get 4½ stars from Golf Digest.
The verdict
One reason Rock Creek is so highly regarded is its playability. This course won't host any U.S. Opens, but the mid- to high handicapper can come out here and enjoy him - or herself.
"It's very player-friendly," Little said. "It's a great course for women, as far as the tee boxes are set up."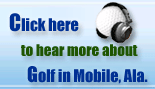 The course has no blind shots and only one unseen water hazard, on No. 17, past the fairway bunkers on the left.
Still, Rock Creek always manages to hold your interest. The green complexes in particular are varied and worthwhile, with different shapes, two-tiered putting surfaces and quite a bit of slope, though not much undulation.
"In this area tiered greens are hard to keep up the speed, but when we do get them up to speed, it can be tough," Little said.
Rock Creek is run by Honours Golf, a company with a very good reputation for service, and the company's trademark chilled apples at the first and 10th tee boxes are present and accounted for.
The course winds through - and up and down - the Rock Creek neighborhood. It's well-treed, with fairly wide fairways, though some of the homes are a little too close.
Stay and play
The Riverview Plaza Hotel in downtown, waterfront Mobile - soon to be the Renaissance Riverview - is a great place to look out and watch the working barges ply the Mobile River. Make sure you get a room up high: The whole Mobile area spreads out before you - cruise ships, shipyards, cars coming over the bay bridge. It's quite a sight, particularly at night.
It's a towering, 28-story, 377-room building in the heart of the business and entertainment district, easy to reach from Interstate 10 and connected to the Mobile Convention Center by a skywalk. Museums and restaurants within walking distance, and there's an IMAX theater The property has 32,000 square feet of meeting space and assorted business services. There is also an on-site restaurant, lobby lounge and gift shop.
Be aware, though, that the Riverview is undergoing a $55 million renovation, due to be finished in mid-2007. The entire fourth floor, including the fitness center and pool, is closed until next year.
Dining out
The linguini with crab cake and shredded Parmesan at the hotel's Riverview Café and Grill is special. Other worthy restaurants in the downtown area include Café 615, Downtowners, Oliver's, Downtown Grill, Picklefish and Quartorze.
Fast facts
Head Pro Jeremy Little created a player-development program called "Golf is more than a game, it's an education." He offers personalized instruction at Rock Creek.
May 2, 2006