Robert Trent Jones Golf Trail: Silver Lakes is a tough test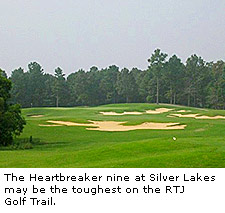 GLENCOE, Ala. - The late Robert Trent Jones forged his reputation designing golf courses that were difficult and demanding in modern, rather than classical, ways. Fittingly, the courses that comprise the Robert Trent Jones Golf Trail in Alabama (eight sites, 279 regulation holes and 99 "short" holes) are, as a collection, some of the most difficult and demanding that the traveling recreational golfer can play, anywhere.
Owned and operated by the state of Alabama the Trail's first courses debutedin 1992 and 1993 at seven locations (a total of 324 holes), all designed bythe firm of the late Robert Trent Jones. An eighth site was later added andeach facility currently boasts between 36 holes and 54 holes.
Jones golf?
The courses of the Robert Trent Jones Golf Trail were built toward the decline of the noted architect's career (he died in 2000) and were actually designed and executed, in ambitious and painstaking fashion, by Jones' longtime associate Roger Rulewich, project manager Bobby Vaughan, and one of the largest golf construction crews ever assembled.
Jones' courses were typically designed to test the accomplished player,demanding both length and accuracy. If the Trail venues have little incommon with what's considered the prototypical (and influential) Jones stylethey can be viewed as an evolutionary extension of the his designphilosophy, with one major consistency - difficulty.
His trademark runway tees and pinched fairways are not factors on the Trail but his tradition of large, highly contoured putting surfaces, as expressed by Rulewich, and penchant for confronting the player with heroic shots, is very much alive at Silver Lakes.
Silver Lakes
Of all the Trail's various challenges none is sterner than Silver Lakes near Gadsen, a gargantuan assemblage of 27 holes separated into three nines and a nine-hole short course, located roughly an hour from Birmingham and just under two hours from Atlanta.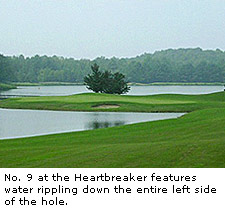 A glance at the scorecard is enough to forewarn the player that these are no ordinary courses. The championship markers on the aptly named Backbreaker nine measure 3,846 yards. The Heartbreaker nine breaks more than hearts at 3,828 yards, while Mindbreaker seems quaint in comparison at 3,579 yards (if you don't have a calculator handy, that's a Backbreaker-Heartbreaker combination that tips out at 7,674 yards).
If the yardage of the Silver Lakes courses seems extreme it's forgivablebecause of the galvanic setting. The three nines loop ambitiously throughoutthe ambling, hilly property, stretching from high point to high point. Thefairways are wide and enabling, the greens well bunkered and prodigious (andprodigiously contoured) with most playing additional one to two clubsuphill. This is epic golf, a playground for hammer-wielding gods andthunder-sticked titans. Even the name Silver Lakes invokes images of amythic Nordic locale.
While length is certainly a trademark here, few players in their right mind - unless it's first been altered on the Mindbreaker course - would attempt to play Heartbreaker and Backbreaker from the tips. For the sane the yardage ranges, for instance, between 2,364 and 3,385 on Backbreaker's mortal tees.
Ultimately, however, it's the repetition of uphill approach shots intofortressed greens that lends Silver Lakes its Valhallan quality.
From the ideal fairway position no less than five putting surfaces on theMindbreaker nine are hidden. These approaches seem benign compared those atthe other two monolithic courses, where six greens at Heartbreaker are blindto go with the seven at Mindbreaker. The overall effect is taxing and soonbegets a diminishing feeling of hitting five-iron after five-iron onto theroofs of tall buildings.
It's fun, seriously!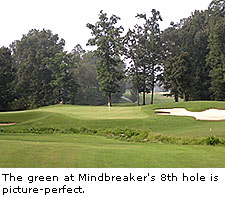 Lest Silver Lakes be portrayed as an exercise in futility - or simply exercise itself - let it be said that there's more happening here than heart, mind, and back breaking.
The courses are routed over a lovely forested property nearly devoid ofhousing. As mentioned, the fairways are more than ample and not withoutdriving intrigue, as Rulewich and Co. were not averse to placing bunkersdirectly in the line of charm.
And then there are the green complexes.
The monstrously contoured greens are not only formidable, they're seriouslyfascinating. Mindbreaker's first hole is a 546-yard par-5 featuring atabletop green with a true double-plateau putting surface (L-shaped anddivided into three distinct levels). The pedestal green on Heartbreaker'spar-5 opener is nearly 40 yards across with roller coaster elevationchanges. The fourth hole on Backbreaker, a 496 (!) yard par-4 (yes, with aninclined approach), is stepped in four distinct levels rising from frontleft to back right. Backbreaker number three's green looks like anopen-faced crepe draped over someone's fist.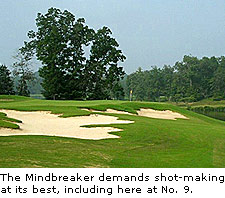 Only players with the greatest iron control will be able to consistently place the ball on the same level as the pin - unlikely to be an habitual occurrence given the many invisible putting surfaces - and these flamboyant contours make for exciting, multi-breaking putts.
The shapes of the greens, too, give the greens keeper ample opportunity totuck pins on the precipice of disaster. The ninth hole at Mindbreaker, anotherwise modest 391-yard par-4, possesses an elevated green set hardagainst a severe drop off on the right; when the pin is cut right it seemsto hang ethereally in the air against the horizon.
Heartbreaker's ninth, a flexible but devious par-4 (353 to 449 yards withwater down the left and a diagonal tee shot across it) had a slenderpeninsula green where a back-back pin adds not only two clubs onto theapproach but brings water into play on three sides.
The Short Course
According to Player Assistant Hawk Miller, six-year Silver Lakes employee and one of the Trail's true ambassadors, this is the finest stop. While most of the accolade is reserved for the three regulation courses, he insists the Short Course shouldn't be overlooked.
"I think it's the most interesting course here," he says. "Some of the holesthere are 250 yards, and that's over water."
Several of the short holes, all par-3s, do indeed play over lakes, and fourof them can measure 225 yards or more.
"There's nothing short about it," Miller says.
Let's see, 254 yards into the sixth green on the Short Course, over a pondand a waterfall? It fits right in at Silver Lakes.
Rates
The Robert Trent Jones Golf Trail is undeniably one of the great golf valuesin the United States. Silver Lakes green fees, cart not included (walking ispermitted but recommended only for Sherpas and those of similar endurance),are $35 per 18 from June to March and $45 April through May. Short Coursefees are 60-percent off regular green fees. Same day replays are discounted40-percent.
Robert Trent Jones Golf Trail: Silver Lakes
1 SunBelt Parkway
Glencoe, Ala. 35905
(256) 892-3268
Trail Reservations: (800) 949-4444
September 4, 2003