TimberCreek Golf Club in Mobile, Ala.: a course to soothe your nightmares
MOBILE, Ala. — TimberCreek Golf Club outside of Mobile is one of those golf courses where the wind always seems to be at your back and all your tee shots are downhill.
That isn't to say it's a ridiculously easy course, but it is a good antidote in the Mobile area after you've played Magnolia Grove's tough layouts, for example.
It's a 27-hole facility, and the two most challenging nines are the Magnolia/Dogwood combo, with a slope rating of 130. The Dogwood/Pines and Pines/Magnolia are much easier.
"I love it out there," Alabama resident Bobby McLaughlin said. "It seems to be designed to give you a good time rather than making it tough on you."
That's because it was designed by Earl Stone, a Mobile resident, who always kept mere mortals in mind rather than touring pros when laying out his tracks. Instead of the "hard par, easy bogey" some architects favor, Stone gives you a chance and helps you out along the way.
Since he isn't a big-name architect, his lower fees translate into lower green fees for the average golfer. There should be more like him.
You're often hitting downhill to wide, inviting fairways, so it's a blast off the tees. Easy doesn't necessarily mean dull, and that's the case here. The course has good elevation changes as it travels up and down through dogwood, magnolia and pine trees: thus the names of the different nines.
The terrain is rolling and there are also wetland preserves to spice things up.
The Magnolia nine has the most elevation changes and wetland areas, with little residential development. The Dogwood nine rolls through bumpy terrain and offers what the course calls its signature hole: No. 7. The Pines gives you two reachable par 5s and perhaps the best hole on the course, which is No. 7.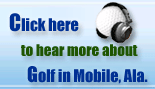 The fairway on Dogwood's No. 7 looks wide and inviting, but danger waits out of bounds and a bunker is on the right, with a lateral hazard down the left that surely frustrates many a driver. A well-positioned drive will get you in good shape to go for the green if you can carry the lake, but watch it — the lay-up can be tricky.
No. 7 on the Pines is a long par 4 with water down the left edge of the fairway. Stay right here, where mounds will help keep your ball in play.
It's a good risk/reward hole because the longer you crank your drive, the more apt you are to find the lake but also more likely to make your approach easier. The fairway slopes right to left, which most golfers will usually hit to the left, but often the green calls for a fade, depending on where you are in the fairway.
The verdict
TimberCreek is a very fun play, and not just because it has the ability to massage your ego. The conditions are excellent, and even though you can score well here, you still have to make shots.
Green fees are $55 with cart, and the twilight rate is $24, which makes the experience fun and affordable.

Stay and play
The Grand Hotel in Point Clear has that tucked-away, semi-isolated feel. It's located along the Eastern Shores, down a long, scenic road away from bigger small towns like Fairhope. The hotel overlooks the bay, and most guests are right above a small marina, with sailboats bobbing in the bay winds.
The place is lucky just to be here. It sustained quite a bit of damage from Hurricane Katrina and is still rebuilding, though it is obviously open for business.
It looks like it would be a historic place — walking in the shade of classic, moss-draped ancient oak trees — and it is. A portion of the hotel served as a Civil War hospital; about 300 Confederate soldiers are buried in a cemetery located on one of the two golf courses.
The hotel has 200 rooms, and it expected to be back to its pre-storm state by this fall.
The Riverview Plaza Hotel in downtown, waterfront Mobile — soon to be the Renaissance Riverview — is a great place to look out over Mobile Bay. Watch working barges on the river and, closer, watch the trains go by.
Make sure you get a room up high, because the whole Mobile area spreads out before you — cruise ships, shipyards and cars coming over the bay bridge — quite a sight, particularly at night.
It's in the heart of the business and entertainment district and easy to reach off Interstate 10. Be aware the hotel is undergoing a $55 million renovation, which isn't expected to be completely finished for another 15 months. The entire fourth floor, including the fitness center and pool won't be open until 2007.
It's a towering, 28-story, 377-room building that's connected to the Mobile Convention Center by a skywalk. It's also surrounded by museums and restaurants within walking distance, including an IMAX theatre next door. The property has 32,000 square feet of meeting space and assorted business services.
There's also an on-site restaurant, lobby lounge and gift shop. Plans include a new, state-of-the-art fitness room and swimming pool.
Dining out
The Riverview Café and Grill is on-site — try the linguini with crab cake and shredded parmesan cheese. There is also room service. Other Mobile restaurants in the downtown area are: Café 615, Downtowners, Oliver's, the Downtown Grill, Picklefish and Quartorze.
Fast fact
TimberCreek doesn't have a senior rate per se, but it does offer snowbird specials in the winter and "six-pack" specials year-round. Check the pro shop for details.
June 12, 2006