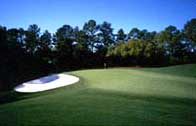 Robert Trent Jones Golf Courses
Augusta National Golf Club, Augusta, Georgia
Washington Road
Augusta, Georgia 30903
Richmond County
Course Profile
This famous club offers one championship eighteen hole course and one nine hole course. The club annually hosts The Masters, the most highly coveted tournament in professional golf, and one of the four "Grand Slam" professional tournaments.
The course is as famous as Pebble Beach and has a unique history related to its famous designer, Bobby Jones. Three of the toughest and most famous holes in golf are the number 11, 12, and 13 holes, known as "Amen Corner." Many famous designers, including Perry Maxwell, Robert Trent Jones and Jack Nicklaus have taken turns making changes on the course. Tom Fazio added two new holes on the Nine Hole Course and redesigned the others in 1986. Fazio was again brought in to rework several holes of the Eighteen Hole Course prior to the 2002 Masters. Notably, he lengthened holes 1, 7, 8, 9, 10, 11, 13, 14, and 18 by moving the tee boxes back. Although some controversy surrounds the reasoning behind these changes, it has been said that the lengthening of these holes was undertaken to in effect "Tiger Proof" Augusta National. Fazio also reshaped the fairway bunkers on holes 1, 8, and 18 to bring them back into play for heavy hitters.
The club is very exclusive and guests can only play with members. Green fees are not available for publication. It is said that a membership list is not even published in order to protect the exclusive aspect of the club. Some of the best shotmakers in the world have played Augusta and have labeled it "the finest course in the whole world." Augusta National's fame is particularly evident in Japan, where there are several courses that have attempted to duplicate its design.
"GOLF Magazine" ranked Augusta National 4th among the "Top 100 Courses in the U.S." for 1995, 1997 and 1999, and "GOLFWEEK" selected it 3rd in the category of "America's 100 Best Classical Courses" for 1997, 1998 and 1999.