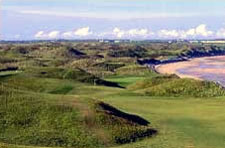 Robert Trent Jones Golf Courses
Ballybunion Golf Club, Ireland
Sandhill Road,
Ballybunion, Kerry
Hailed for its excellent links courses, Ballybunion is recognised for its fine development of the natural terrain. With large sand dunes and an Atlantic backdrop, Ballybunion offers the golfer an exciting round of golf in a scenically beautiful location.
Practice bunkers and putting green. Tuition. Practice bunkers and putting green. Club and caddie hire available. Full clubhouse available (expensive). President Clinton recently played Ballybunion on his recent historic visit to Ireland (1998). For more details be sure to read the golfer reviews below.
Directions
3 km south of Ballybunion
Course Details
Course Name: Cashen Holes: 18 Yardage: 6477 SSS: 70
Although overshadowed by the Old Course, the Cashen course designed by Robert Trent Jones is also a world class course. Narrow fairways , small greens and large dunes characterise the course.

Course Name: Old Course Holes: 18 Yardage: 6542 SSS: 72
Consistently rated as one of the worlds greatest golf courses, the Old Course offers the ultimate links golfing challenge. Difficult to play in the wind but always rewarding not least because of the scenery.