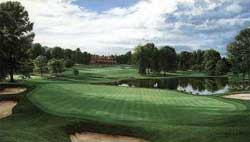 Robert Trent Jones Golf Courses
Baltusrol-Lower, Springfield
For a full century, golf has been played on Baltusrol's fabled fairways. Beginning with nine rudimentary holes, the golf course was soon transformed into a respected 18-hole championship layout, and then doubled once more to become the two world-renowned golf courses that exist today, the Upper and Lower.
During this rapid and sometimes painful evolution, Baltusrol managed to keep itself in the forefront of American golf. Many other clubs that figured prominently in the early chapter of our golf history have faded from sight, unable or unwilling to make the changes necessary to keep pace with developments in the game. Not Baltusrol. It has hosted a national championship in every decade of the twentieth century except one, a record no other club can match.
The United States Open has been played seven times at Baltusrol, on three different courses - another unique record. If Baltusrol' s success now seems inevitable, we should remember that it was achieved only through bold and constant innovation. The first 18-hole course, the Old Course, was originally designed as a one-of-a-kind combination layout, a short course and long course rolled into one. In time, the short course would be abandoned and the long course would evolve into what became known as the Old Course. It featured huge cross bunkers, the first island green, and pit bunkers faced with railroad ties. In the boldest innovation of all, this Old Course was scrapped to make way for the Dual Courses!
So many changes could have led to disaster, but at every critical juncture Baltusrol was guided by men of conviction and foresight. The founder of the Club, Louis Keller, set the standard when he made it clear that he would be satisfied with nothing less than a superior golf course. It was Keller who commissioned the layout of the original nine holes, Keller who then dynamited these holes to make way for the combination course, and Keller who initiated the development of the Upper and Lower. Keller wasn' t alone. He had the able assistance of George Low, Baltusrol' s esteemed professional and greenkeeper, who played a major role in shaping the Old Course. He was also supported by Baltusrol' s green committee, especially Chairman C.F. Watson, who oversaw the construction of the Dual Courses.
And then there was Albert W. Tillinghast, the self-styled Creator of Baltusrol, the talented and charismatic architect and builder of the Upper and Lower. It was said of Tillinghast that he was the first golf course architect to be given an unlimited budget, which he then exceeded! Tillinghast was one of the first to articulate the principles of modern golf course design, and he applied those principles at Baltusrol.
He was followed by a series of able men who left their mark on the Dual Courses. First came Major Avery Jones, who planted many of the trees that now line the fairways; then there were architects Robert Trent Jones and his son Rees, who readied the Lower for major tournaments; and through every change the golf courses were kept in superb playing condition by green superintendents like Robert Casey and Joseph Flaherty. It goes without saying that such a record of unbroken success can be achieved only when a golf club is committed to excellence, and when vigilant green committees, led by dedicated chairmen, have the support of an enlightened membership.
Some of the impetus for change came from within the club, and some came from without - specifically, from the United States Golf Association. Each time Baltusrol was selected to host a national tournament, the golf courses were improved, strengthened and modernized. Some of the most remarkable people in American golf, men like Bobby Jones, Francis Ouimet, Joe Dey and P.J. Boatwright, looked over Baltusrol with a critical eye, making suggestions that led to significant alterations.
Yet the golf courses retained their essential character throughout these changes. They are inalterably Baltusrol's Upper and Lower, and so they will remain.