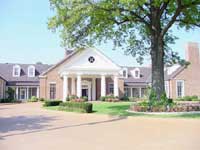 Robert Trent Jones Golf Courses
Bellerive Country Club, Michigan
12925 Ladue Rd
Saint Louis, MO 63141
Bellerive Country Club was founded in 1897 as one of the first country clubs in the then rapidly growing city of St. Louis. In 1957, the club's original location was sold to the University of Missouri for its St. Louis campus. This allowed Bellerive to move to its current 289-acre spacious location. The club is outstanding in all aspects and has been designated as one of the Platinum Clubs of North America.

Bellerive's relocation did not happen by accident. Many visionary members (one of whom, at the time, was Hord Hardin, Sr., President of the United States Golf Association and Chairman of the Masters), made the Bellerive dream come true. The club's visionaries personally acquired the land before the club even approved relocating. These club leaders knew it should happen, so they made sure the land was available. Then, when the club's membership agreed to the move after once voting it down, the club's board went about master planning one of the most coordinated and best planned country club facilities in North America.

Robert Trent Jones, Sr., designed the over 7,000 yard championship golf course. A very well respected clubhouse architect and a superb landscape architect were also selected. This design team developed a country club layout that had good spatial relationships, adequately-sized facilities and future expansion capabilities. Today, after 44 years, the club is still a near-perfect example of clubhouse architecture and golf course design.

From its inception, Bellerive Country Club has been positioned as one of the premier golf courses and country clubs in the nations. Hord Hardin's vision for a superlative golf course was realized in the club's hosting of the 1965 U.S. Open. In addition, the club hosted the first Mid-Amateur Championship in 1981, the 1992 PGA Championship and the 2001 World Golf Championships-American Express Championship. Bellerive will also host the 2004 U.S. Senior Open.

Yet, while golf is king at Bellerive, the club is a strong family-oriented country club with large swimming and tennis complexes, platform tennis, a croquet court and a beautiful 70,000 square foot clubhouse.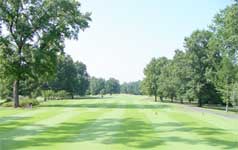 Bellerive has had a history of fine general managers. Kevin Carroll, CCM, (winner of the 2002 Excellence in Club Management Award) has been directing Bellerive's operations since 1996. Tony Mancuso, CGCS, is Bellerive's Golf Course Superintendent and brings his expertise and more than 23 years of experience to the golf course.

From Bellerive's inception, talented members have contributed their time and effort to serve as presidents, board members and committee members. The club members participate in all activities, and there is a definite focus on keeping the club up with the times. Strategic planning and surveys are done, and the club continuously strives to serve the next generation of younger members and their families. The club continually reinvests in its golf and clubhouse facilities.

The Bellerive Country Club story is worth retelling since it points out the benefits of visionary leadership, high quality facilities and fine operations. Any club that meets these criteria will always be successful. Congratulations to the leadership, management and members of this fine St. Louis country club.
Bellerive Country Club Facts:
Membership: 396 Regular, 40 Junior, 31 Non-golfing Senior, 44 Life, 50 Associate (widow), 54 Non-resident
Initiation fee: $65,000 (no equity)
Monthly dues: $560 for Regular membership
Dining minimum: $600 per six months (active members)
Annual Food & Beverage Sales: $2.3 million
Clubhouse size: 70,000 sq. ft.
Last major upgrades: $3.5 million interior upgrade in 1996; $750,000 upgrade to women's locker room in 2003
Golf course: 18-hole designed by Robert Trent Jones, Sr.
Golf practice facilities: extensive range and short game area
Annual golf course maintenance cost: $1.14 million
Tennis: 7 Har Tru courts
Platform tennis: 2 courts with warming hut
Swimming: Main "L" shaped pool with wading pool and all support areas
Croquet court
Car parking: 300 capacity
Total land area: 289 acres
Major challenges for the future: Maintaining the club at the highest possible quality level for maximum membership enjoyment while continuing to support the game of golf by hosting major championship events.