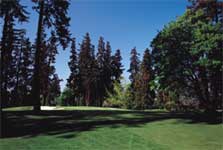 Robert Trent Jones Golf Courses
Eugene Country Club, Oregon
255 Country Club Road
Eugene, OR 97401

Eugene Country Club is a member's only Club located in the heart of the Willamette Valley in Eugene Oregon. Eugene Country Club is proud to be ranked a top 100 course by Golf Digest and therefore keeps the course and facilities in championship condition. Our members are our top priority and their satisfaction is our main goal and objective. We welcome your comments and suggestions on how we can be of service to you, the member. Our goal is to make this site an additional communication tool between the staff and the membership.
History
The Eugene Country Club, organized in 1899, is the second oldest country club in the State, antedated only by Waverley of Portland. In 1912, the club was incorporated and acquired its first clubhouse on South Willamette Street.
In 1923, the Young-Ford-McAllister properties were purchased and Chandler Egan, one of the nation's greatest tournament golfers, was engaged to lay out a new 18 hole golf course. Over the years this course with its natural setting among tall firs and other scenic wonderment's developed a reputation as one of the finest golf courses on the Pacific Coast.
During the past years, improvements at the Eugene Country Club have further enhanced membership enjoyment of the facilities. Golfing on the new Robert Trent Jones course was made more challenging and enjoyable by the large spacious greens, the addition of a new lake and waterways, and the sparkling white bunkers. The deep, lush grass of the course continued to be maintained in the highest standard by a completely automatic sprinkling system installed during the course remodeling.
During 1968 the men's locker room was remodeled and provided finer locker room facilities, sauna bath, a larger card room with club storage beneath. The golf shop has been moved to the new number one tee that made its location more convenient to the practice range, putting greens, clubhouse, and number one and number ten tees, and provided a beautiful
new display area.
In 1990, a major remodeling was completed, by building a new swimming pool facility complete with snack bar and locker rooms adjacent to the tennis courts. The main dining room was relocated to the north end of the building overlooking the ninth green. Three separate rooms, namely a Board Room, Meeting room and Green View Room were created, as well as a brand new enlarged kitchen facility and a new, larger men's locker room with storage for electric golf carts underneath. By 1993 a new, modern golf course maintenance facility was added.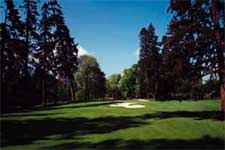 ECC can be proud of its history and of the many members who brought our club through the years so successfully. This progress has been made possible by hardworking, interested, cooperative and progressive boards of directors and members. It is our hope that this will continue in the years to come under the leadership of new club presidents, boards of directors and members with the help from our very capable staff.
Eugene Country Club continues to reflect pride in our facilities by ever striving towards a friendlier and more active membership.
The 19th Hole:
Enjoy a relaxed atmosphere as you enter the ECC 19th Hole. Here you can grab a light snack, have lunch or dinner, or simply sip something to drink while watching a golf tournament. After a round of golf, this is a great place to sit and reflect on your game.