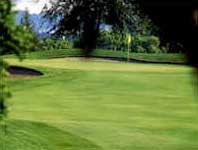 Robert Trent Jones Golf Courses
Hazeltine National Golf Club
Hazeltine National Golf Club is the premiere championship golf club in the Midwest. This preeminent venue has been challenged by the best players in the world and remains undefeated.
The golf course, designed by Robert Trent Jones and enhanced by Rees Jones has in its continued evolution become a course requiring no deception, no trickery or no diversion, while challenging the world's finest players. Hazeltine National Golf Club is not the longest course in existence and has few holes that provide the drop dead beauty of a seaside, forest or mountain setting. It is a homogenous mixture of natural elevations, woodlands, marshland, and the majesty of the plains, a brutal wind is it's defining characteristic. This is a course of 18 great holes, no surprises, no let up, and no forgiveness.
At Hazeltine National Golf Club, "what you see is what you get", it is all in front of you challenging you to execute or be penalized. In simple terms, Hazeltine National Golf Club is the union of natural surroundings and the gift of timeless design.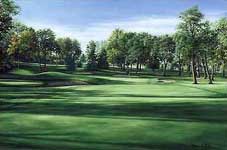 In the 40 years of play at Hazeltine National Golf Club, there have been only two head professionals, Don Waryan and Mike Schultz. A native Texan, Schultz has been a PGA Professional at Hazeltine since 1976. He calls the course "ultimately fair," in that everything is in front of the player. It is long enough to require that the driver be used frequently, but he believes accuracy will be the differentiating factor in the PGA Championship. To Schultz, there is a premium on hitting the greens in regulation, since a strength of the course is the difficulty in pitching and chipping the ball close enough to make a high percentage of putts.
It's somewhat of a cliché to say that par is a good score, but Schultz believes making par has always been the key to winning at Hazeltine. "It's hard to make a lot of birdies, and it's not a course where there are a lot of 'others,'" says Schultz. In fact, Payne Stewart made 57 pars during the four rounds of regulation play en route to his victory in the 1991 U.S. Open at Hazeltine, more than anyone else in the field, and made pars on the last three holes each day. Schultz thinks that those finishing holes will be a critical test for the field. "Sixteen is a possible disaster hole -- you just want to get through unscathed," he says. "Seventeen is a moderate length par 3, with the most difficult putting on the course. Eighteen is a good, solid hole to finish. Rich Beam won the 2002 PGA with a score of 10 under par, 278, Hazeltine remains undefeated.