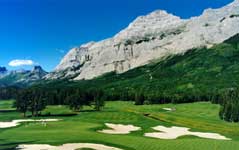 Robert Trent Jones Golf Courses
Kananaskis Country, Alberta
In the heart of the Canadian Rockies, less than an hour's drive from either Calgary or Banff, visitors find a golfing paradise. The rugged surrounding peaks tower a full 9,600 feet above sea level, the courses themselves are at almost 5,000 feet, forming an unforgettable background, the cascading Kananaskis River a constant and pleasant companion. The course was designed by Robert Trent Jones.
Named for the soaring peaks that serve as their most inspiring landmarks, the Mount Lorette and Mount Kidd courses share more than 600 acres of lush fairways, bent grass greens, 142 strategically-placed bunkers, forest, rivers, streams and ponds.
The Clubhouse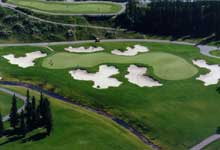 Discover pure culinary enjoyment at its best. The Clubhouse at Kananaskis Country Golf Course features menu selections from light snacks to fine dinner entrées, from quick refreshments to fines wines. Whether visiting the superb dining room, fireside lounge or outdoor terrace, you are sure to enjoy the casual atmosphere and friendly service. Open daily to the public during our golf season, all guests receive complimentary views of the spectacular Canadian Rockies.
Impeccable Service part of the unforgettable Kananaskis golf experience is the wide range of facilities and five-star service. In addition the complimentary views, our golfing guests are invited to make use of The Clubhouse's complimentary valet parking, locker room and shower privileges.
Pro Shop
Whether you need help off the tee, fairway, rough, or around the green, our C.P.G.A. Professional Staff are here to help you with all facets of your golf game. Our spectacular practice facility is the perfect place to let one of our instructors help strengthen your weaknesses on the golf course. Our Professional staff provides you with the flexibility of private, semi-private, or group settings for lessons. Please contact the Pro Shop @ (403) 591-7088 ext. 321 to find out more about our golf lesson programs.