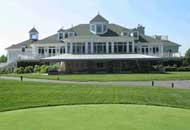 Robert Trent Jones Golf Courses
Metedeconk National Golf Club
50 Hannah Hill Road,
Jackson, New Jersey 08527

THE NAME
The name, Metedeconk, derives from the Metedeconk Indian Tribe that inhabited the area as late as the early 17th century as well as from the nearby Metedeconk River, which flows into the Barnegat Bay at Bay Head.

THE COMMITMENT
Metedeconk National Golf Club was conceived (in 1987) by the Sambol Family of Middletown, New Jersey. As stewards for the land on which Metedeconk is located, the Sambols have committed themselves to building and maintaining a course of national prominence that celebrates the authority of the natural beauty which long preceded their involvement in the property. They are dedicated to creating an environment for a select group of individuals where sportsmanship, camaraderie and service are unmatched.
ABOUT THE CLUB
Metedeconk is a club that reserves the sport of golf and the camaraderie that arises from it. There are no diversions such as tennis courts or swimming pools that might dilute this focus, nor is Metedeconk part of a real estate development. Rather, it is a private golf club that provides an opportunity to play a nationally prominent course and to be entertained in facilities that cater to each member and guest's individual requirements. The club's steady development has followed a master plan that concentrates on course architecture, superior conditioning and a level of service befitting Metedeconk's caliber of membership.
THE FACILITIES AND AMENITIES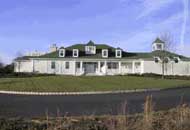 In addition to the 27 holes Robert Trent Jones, Sr. and Roger Rulewich designed golf course, Metedeconk has other added attractions including: one driving range located next to the maintenance building, a separate practice facility with a putting green and chipping areas, and four overnight guest houses. The Clubhouse opened in 1996 and was designed by the New York firm of Robert Lamb Hart. Inside the 20,000 square foot Clubhouse are a men's and ladies' locker room, golf shop, three dining areas, and a screened porch. The grounds maintenance facilities and heliport area are located adjacent to the lower driving range.
LOCATION
Access to Metedeconk National Golf Club is located off of Hannah Hill Road and Route 527 (Just off of exit 21 on Interstate I-195).