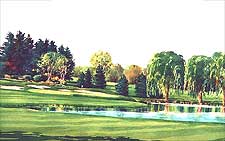 Robert Trent Jones Golf Courses
Oakland Hills Country Club, Michigan
BLOOMFIELD HILLS, MI (August 5, 2002) -- Oakland Hills Country Club Golf Course in Bloomfield Hills, MI is widely known as one of the most prestigious courses in the world. It is home to some of the biggest tournaments in golf.
Since its very beginning in the early 1920s, Oakland Hills has made its mark in the annals of golf history. The 1924, 1937, 1951, 1961, 1985 and 1996 US Opens, along with the 1972 and 1979 PGA Championships and the 1981 and 1991 US Senior Opens were all held at this proud venue.
It was at the memorable 1951 US Open - when the South Course was revamped and made almost unbearable by Robert Trent Jones - that it received its nickname, "The Monster." Only two players that year had rounds under par. Ben Hogan's 287 total won the Open and caused him to exclaim his joy at having "brought this course, this MONSTER, to its knees."
The South course at the storied Oakland Hills Country Club has hosted some of the world's greatest players with its six U.S. Opens. The club has upgraded an already outstanding test of golf in the last two years.