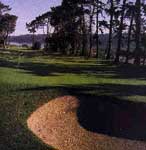 Robert Trent Jones Golf Courses
Olympic-Lake, San Francisco, CA
The Olympic Club Lake Course in San Francisco is short at just 6,800 yards. It has only one fairway bunker and at 240 yards off the tee, it serves no purpose at all.There's hardly any out-of-bounds, and even though it's called the Lake Course, there isn't a water hazard anywhere (credit nearby Lake Merced for the name). There is no way to loose a ball unless you get it stuck in a tree. Sounds pretty easy, dosen't it? Yet this is a four time United States Open Course!
Willie Watson was largely responsible for layout of the Olympic Club's two 18 holers in the mid 1920s. Sam Whiting also had a hand in designing the Lake Course, as did Robert Trent Jones,who toughened the course in 1953 in anticipation of the 1955 U.S. Open.
What makes it so tough? There's few level lies anywhere, the short holes are uphill, the wind and the grass. Deep grass. If the slanted fairways don't kill you the subtle greens will. There are no simple lies and no easy putts. Then there's the funny little rolls on the greens. No fairway is wider than 31 yards. The greens are surrounded by a 30 inch band of intermediate 1 1/2 inch rough, followed by a primary rough of 5 to 6 inches. The combination of all these will rip your scorecard to shreds!
The Stimpmeter reads 11 on these greens and most putts seem downhill. The toughest holes are the second through the fifth. They have been dubbed, "Quake Corner". It has been said that these 4 holes are the 4 hardest holes, in a row, on the tour. Number 6 is a very difficult hole also, making the front 9 a nightmare. Most will agree that a tournament will be won or lost on the front side. The greens are small and it takes a very patient player to score at Olympic. Par during the Open is 70 and few players have ever seen it.