Robert Trent Jones Golf Courses
Southern Hills, Tulsa
2636 East 61st Street
Tulsa, OK 74136
Background
Southern Hills Country Club was established in 1936 as a private country club. The land that is now Southern Hills Country Club was donated by oilman Waite Phillips.
When the stock market crashed, Mr. Phillips' fortune was almost totally liquid; it was estimated to be approximately $50 million. He became Chairman of The First National Bank of Tulsa, and he was approached by Bill Warren and Cecil Canary to finance a new country club. They spoke of the need for a family-oriented club that would include a swimming pool, stable, horseback trails, polo field, skeet range, tennis courts, clubhouse and golf course. Golf was not as popular in those days and swimming pools were rare.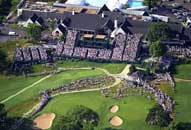 Mr. Phillips immediately labeled their ideas as ridiculous, noting the more important financial demands of the day. However, he agreed to donate the land for the club if Mr. Warren and Mr. Canary could demonstrate there was a sufficient number of people interested in such a project. Mr. Phillips gave them two weeks to garner pledges from at least 150 Tulsans for $1,000 each, but he would not personally give them a nickel to finance the project.
The money was raised and the Clubhouse was constructed in 1936. Perry Maxwell, who designed the Colonial and Prairie Dunes golf courses, was hired to design the Southern Hills golf course.