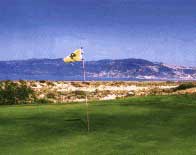 Robert Trent Jones Golf Courses
Tróia Golf Course
Designed by Robert Trent Jones, Troia Golf Course is one of the most fascinating golf challenges in Portugal, laid out across a peninsula close to the sea, with the majestic backdrop of the Arrábida mountain range, and surrounded by beaches.
Considered to be Portugal's most difficult golf course. Tróia is, for this reason, a major challenge to any golfer. It is one of the links designed by the famous Robert Trent Jones and opened in 1982. Its principal obstacle is sand which borders the whole course, where pine trees and wild plants are also found in abundance.
With breathtaking views over the ocean and a welcoming clubhouse set among pine trees, Tróia is surely a golfers paradise.
The Trent Jones signature can be seen on the greens, which are small, narrow and always well protected, sometimes by huge bunkers.
All this might give the idea of an almost impossible course. Nonetheless, when at the tee, the fairways seem to be wide and do not show many signs of danger. Only later does one understand that the real challenge of this course is to arrive at the greens in such a way that a respectable score can be obtained. The famous architect said he would include hole number 3, running along the beach, as one of the eighteen holes of his 'ideal' golf course.
Tróia hosted the Portuguese Open Championship in 1983, when victory smiled on the Scotsman Sam Torrance who averaged just two shots below Par.