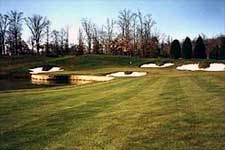 Robert Trent Jones Golf Club
Robert Trent Jones Golf Club, Virginia
Robert Trent Jones Golf Club opened in April 1991. Lake Manassas is visible on every hole, particularly on the back nine where eight holes run adjacent to the water.
The lush and picturesque course, which winds its way around Lake Manassass in Prince William County, Va., has welcomed three previous Presidents Cups. The United States has won all of The Presidents Cups played at the venue, which is located less than an hour outside Washington D.C. RTJ also hosted the 2001 VSGA Amateur Championship.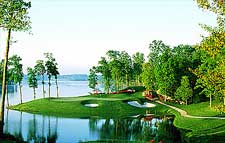 The U.S., captained by Hale Irwin, won the inaugural event at the Robert Trent Jones Golf Club in 1994 by a 20-12 margin. Arnold Palmer captained the Americans to a second victory there by a 16½-15½ score in 1996. The third U.S. win came in 2000 when Ken Venturi served as captain in a 21½-10½ victory.
Robert Trent Jones Golf Club in Gainesville, Va., will host the 2005 Presidents Cup, the PGA Tour has announced. "The membership and staff of Robert Trent Jones Golf Club is honored that the club has been named the site of the 2005 Presidents Cup," said George Burger, the general chairman for the 2005 event. "We view The Presidents Cup as one of golf's premier events and are excited to host our fourth in 2005."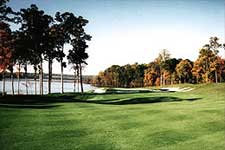 The Robert Trent Jones Golf Club is the quality of which an architect would give his name. The dream of Robert Trent Jones was to build a golf only club in the tradition of Augusta National, Pine Valley and Cypress Point.
The course is positioned along the shores of the largest lake in Northwest Virginia, Lake Manassas. From the beginning it was planned that the world's best golfers would play the course under championship conditions and through the Presidents Cup this dream has become a reality.
Lake Manassas runs through this course and comes into play on half of its holes. The fairways are narrow, and the large greens are difficult to read. "Golf Digest" rated this as the 3rd "Best in State" course for 1995-96, and the 2nd best for 1997-98. Other awards include "Golf Digest's" 92nd ranking in the category of "America's 100 Greatest Courses" for 1997-98, and "GOLFWEEK" rated it 33rd among "America's 100 Best Modern Courses" for 1997, 48th for 1998 and 59th for 1999. This club hosted the President's Cup in 1994 and 1996.