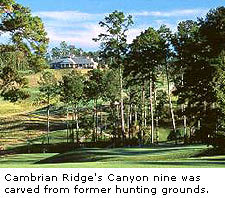 Robert Trent Jones Golf Courses
Robert Trent Jones Golf Courses
"....he has designed (or re-designed) some 500 golf courses in over 40 states and 35 countries. It is not only the quantity of his work that impresses, however; it is also the number of enduring golf courses he has created."
Robert Trent Jones, Sr. made his reputation after World War II with a handful of high-profile projects. He worked with Bobby Jones on Peachtree (1948) in Atlanta, a course that launched the broad-shouldered, heavily sculpted power golf look that defined the postwar years. Trent also worked on Augusta National, transforming the 11th and 16th holes from indifferent to bold and memorable. And he became a national celebrity in 1951 owing to his complete redesign of Oakland Hills-South Course for the U.S. Open that year. While retaining Ross' routing and his green sites, he filled in all of Ross' fairway bunkers at Oakland Hills, moved them back to the 230-270 yard range off the tee, and created "a Monster" out of what had been a much more modest if always sound layout.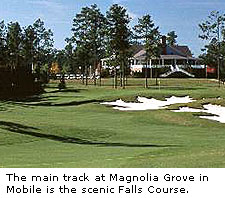 Trent's reputation was made. He became "The Open Doctor" - the man to whom clubs turned in prepping their course for a U.S. Open. In quick succession, he worked such major venue as Baltusrol-Lower Course, Olympic-Lake, Southern Hills, Oak Hill and Congressional.
When it came to employing earth-moving equipment, Trent held nothing back. If the site was completely flat, such as with the course he came to own in Fort Lauderdale, Coral Ridge CC, he simply create massive lakes on the property and used the excavated earth to elevate tees and greens. At Mauna Kea in Hawaii, he routed a course through an ancient lava flow; there he invented the method of crushing the lava to make the soil, a method that was copied by others working in Hawaii. He built Dorado Beach in Puerto Rico on nothing but a base of sand. And on the Italian island of Sardinia, he literally broke new ground, and defied expert advice in the process, by pulverizing the on-site granite and using it for top soil.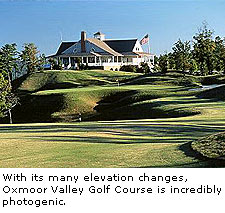 He tried to juggle more than a dozen projects at one time - in some cases, sacrificing detail and attention for the sake of productivity. While he did much of his own routing, he also surrounded himself with top-flight design associates. Frank Duane was at his side from the late 1940's to the early 1960's. Since then, his chief designer was Roger Rulewich - who in 1995 left to form his own design group, and took with him most of Trent's in-house construction crew. Throughout his career, Trent catered to good players and virtually ignored high- handicappers. His greens usually required a shot flown all the way over sand and water, rather than allowing for bump-and-run approaches. He liked to say that on his holes, "par was tough but a bogey was easy." Yet this only pertains to a golfer accustomed to shooting in the 70's.
More than any other architect, he set out to build courses that were "tough" - not fun, not subtle, but difficult. He also took on much too much work. In the process, he transformed the art of course design into a business in which hype and self-promotion took precedence over spending time with the land. Ironically, and in large measure because of his architectural success, the game of golf has become sanitized somewhat and lost a measure of subtlety and native charm. But is that Trent's fault, or would it have happened anyway? In either case his genius lay in having been present at the creation of a revolution in the game.
Robert Trent Jones, Sr.'s Best Courses:
| | | | |
| --- | --- | --- | --- |
| • | Ballybunion Golf Club, Ireland | • | Bellerive Country Club, Michigan |
| • | Boyne Highlands-Heather, Boyne | • | Crumpin-Fox, Bernardston |
| • | Dorado Beach, Puerto Rico | • | Dunes G&BC, Myrtle Beach |
| • | Eugene, Eugene, Oregon | • | Firestone-North, Ohio |
| • | Golden Horseshoe, Virginia | • | Hazeltine National, Chaska |
| • | Kananaskis Country, Canada | • | Mauna Kea Beach, Kameula |
| • | Metedeconk National | • | Midvale, Penfield, New York |
| • | Peachtree, Atlanta, Georgia | • | Point O'Woods, Michigan |
| • | Robert T. Jones Course, Virginia | • | Robert Trent Jones Trail Courses |
| • | Sotogrande-Old, Spain | • | Spyglass Hill, Pebble Beach |
| • | Troia, Setubal, Portugal | | |
Some Major Re-Designs: