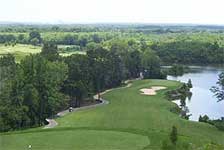 Robert Trent Jones Golf Trail
Capitol Hill, Prattville/Montgomery
Capitol Hill Golf Course
2600 Constitution Ave.
Prattville, AL 36066
The Course
The Senator is a traditional Scottish-style layout. Over 150 pot-hole bunkers are situated throughout the 18 holes, and mounds 20 to 40 feet in height engulf the landscape, cleverly hiding the cart path or any other hole from the fairway. The Senator's bent-grass greens provide exceptional conditions 12 months a year.

The other two championship courses are very different in appearance. The Legislator will rival some of the more famous courses in North Carolina, with huge pine trees.
The Judge plays alongside the Alabama River with 12 holes bordering the water providing some of the most spectacular scenery and golf holes in the world with elevation drops of more than 200 feet.
Trail Courses
• Cambrian Ridge, Greenville
• Capitol Hill, Prattville/Montgomery
• Grand National, Auburn/Opelika
• Hampton Cove, Huntsville
• Highland Oaks, Dothan
• Magnolia Grove, Mobile
• Oxmoor Valley, Birmingham
• Silver Lakes, Anniston/Gadsden
Back to Robert Rrent Jones Golf Trail >>