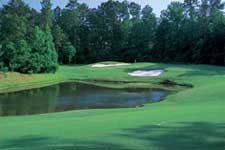 Robert Trent Jones Golf Trail
Magnolia Grove, Mobile
Magnolia Grove Golf Course
7001 Magnolia Grove Parkway
Mobile, AL 36618
The Course
The main track at Magnolia Grove is the Falls Course. It is characterized by large, liberally contoured greens and massive cloverleaf bunkers. On the 10th, a 570-yard par five, and possibly the best strategic hole on the course, a waterfall cascades across stair steps just beneath a convoluted green that falls eight feet from front to back.

The Crossings Course, which doubles across railroad tracks, is a shot-makers layout. It occupies hillier terrain than the Falls, with several pulpit greens elevated well above fairway levels.
Most of the holes on the Short Course call for forced carries over marsh to liberally sloped, bulk-headed greens, and are equal to any of the one-shotters on the full-length courses.
Trail Courses
• Cambrian Ridge, Greenville
• Capitol Hill, Prattville/Montgomery
• Grand National, Auburn/Opelika
• Hampton Cove, Huntsville
• Highland Oaks, Dothan
• Magnolia Grove, Mobile
• Oxmoor Valley, Birmingham
• Silver Lakes, Anniston/Gadsden
Back to Robert Rrent Jones Golf Trail >>