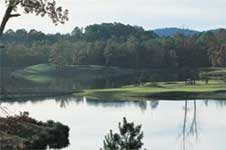 Robert Trent Jones Golf Trail
Silver Lakes, Anniston / Gadsden
Silver Lakes Golf Course
1 SunBelt Parkway
Glencoe, AL 35905
The Course
The Heartbreaker nine is dubbed by many as the most challenging nine on the Trail from the championship tees. Consider the 450-yard par-4 ninth with water rippling down the entire left side of the hole. The beauty of Silver Lakes is the multiple tee selections (up to 12 on some holes).

The Backbreaker nine, the last championship course to open on the Trail, is a photographer's dream boasting beautiful views of the Appalachian foothills from its elevated tees. The par-5 seventh, a 623-yard thriller (466 from the novice tees), brings water into play not once, but twice.
The Mindbreaker, although a tad easier than the other two, demands shot-making at its finest.
The Short Course at Silver Lakes is arguably the most demanding collection of one-shotters on the Trail. There's water in play on seven of the holes, including a 12-foot cascade beside the sixth green.
Trail Courses
• Cambrian Ridge, Greenville
• Capitol Hill, Prattville/Montgomery
• Grand National, Auburn/Opelika
• Hampton Cove, Huntsville
• Highland Oaks, Dothan
• Magnolia Grove, Mobile
• Oxmoor Valley, Birmingham
• Silver Lakes, Anniston/Gadsden
Back to Robert Rrent Jones Golf Trail >>