Mobile's prowess as a golf getaway is growing daily
MOBILE, Ala. - The location of this southern city couldn't bemore ideal.
It can blend in with some of the most beautiful beaches in the world alongnearby Gulf Shores, which is just 45 minutes away, and at the sametime, itis far enough away to have its own persona.
At the mouth of the Mobile Bay, Mobile is just a monster drive and fairwaywood away from the Gulf of Mexico, with its wealth of fun in the sun,fishing and natural resources.
And with a daily average temperature that never dips below 50 degrees year-round (51 in January is its lowest), Mobile is always golfer friendly.
Mobile could be considered the great start, or great end, toany good golf vacation. Golfers attempting to tackle the world-famous RobertTrent Jones Golf Trail can begin any week-long journey with the 54-holeMagnolia Grove complex, or finish with it.
At the same time, another golfer could be starting his golfjourney in Mobile, and head east to play some great stops in Gulf Shores andfinish along Florida's Emerald Coast. Or vice versa.
Any way you look at it, Mobile's prowess as a golf getawayis growing.
Must plays
Although it isn't recognized by Golf Digest as one of the best stops along the Trent Jones Golf Trail, Magnolia Grove is still top-notch.
Just ask the professionals who've played the 7,151-yard Crossings course. The NIKE Tour (now the Nationwide) played its tour championship there in 1998, and the LPGA Tournament of Champions has been a regular since 1999.
As with any Trail course, bring your A-game. Or at least, a B-plus effort and a lot of balls.
Both the Crossings (hence the name) and the 7,239-yard Falls course (named for a waterfall near No. 10 green) are brutes, filled with cross-hazards of wetlands and ponds, treacherous approach shots over hundreds of bunkers and at times, tight tree-lined fairways.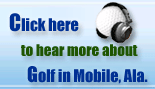 Although the Falls' 570-yard, par-5 10th hole might be the best on the property, the Crossing gets the nod for most of the tournament play, mainly because its closer, a 456-yard par-4, climbs uphill with eight nasty bunkers along the way. With apologies to Arnold, it is affectionately known as "The Terminator."
Don't leave without trying the 3,140-yard short course, widely recognized as one of the nation's best 18-hole executive courses. It will challenge you with 110-yard wedges and 215-yard 3-irons to wavy greens.
Solid seconds
It's hard to call Earl Stone's two Mobile-area designs, Rock Creek and TimberCreek, solid seconds, because they are entirely different designs than Magnolia Grove. While Trent Jones is infamous for his over-the-top courses along the trail, Stone is his foil, an architect who passes on some pity to the average bogey golfer.
Stone's courses aren't easy, mind you, but they are more player-friendly. There are some tough shots, but they are spread out evenly among each course. Players won't set any course records at Timber Creek and Rock Creek, but they won't lose 10 balls - a possibility on any trail stop.
"Earl Stone designed his courses for the mid-handicappers,"said Andy Ray, director of golf at Timber Creek.
Timber Creek, which opened in 1993 and costs roughly $55 to play, features 27 holes, making it flexible to handle a ton of play. The Pines is the best nine, playing to 3,478 yards, while the Magnolia, at 3,612yards, is the longest.
A massive green renovation in 2002 should take hold and improve the course for years to come.
"We have a very generous maintenance budget," Ray said. "We are luck to have local ownership who treats the course like a private club."
Rock Creek, a 6,920-yard layout, is tougher, and arguably, more fun. It is part of the Honours Golf family, which includes the nearby 27-hole Peninsula Golf and Racquet Club in Gulf Shores.
The highlight hits you instantly on the second hole, a343-yard par-4. From an elevated tee, the hole doglegs hard to the right.Your approach is a stunner over a gorge to a green perched high above with awall of wood bulkhead in back.
The back nine tightens up with trees and plays longer,thanks to some scenic rolling terrain.
Rock Creek, which costs $65 to play during high season, also has private club luxuries, like eight outdoor tennis courts, a fitness center and large outdoor pool and spa.
Off course
Mobile is small enough to keep traffic and a big-city attitude away, but big enough to host some exciting sporting events.
Alabama loves its college football and Mobile comes alive with the annual Senior Bowl, an all-star game for NFL draft prospects in January, and the GMAC Bowl in December, both at Ladd-Peebles Stadium. The United States Tennis Association brings the men's top players to town in March.
And the LPGA hosts its year-end tournament, the Tournament of Champions, for a shootout in November.
Everyday life can be just as fun. An incredible array of architecture is spread throughout the city, from the walking tour on Dauphin Street to the beautiful homes in surrounding countryside.
Nearby, Dauphin Island welcomes tourist with marvelous beaches and Fort Gaines, established in 1821. The USS Alabama will wow children with the shear size of its frame and gunnery. Commissioned in 1942,and later shooting down 22 enemy planes during World War II, the ship weighsa mere 35,000 tons and is 680 feet in length. Its gun can shoot accurately to 21 miles. Don't you wish your golf game was half that accurate?
Dining out
Locals have been raiding two local seafood hangouts for years - Roussos Seafood Restaurant and Wintzell's Oyster House.
Roussos, located downtown for decades, is slated to move in the near future, so call ahead before you venture downtown. The Roussos family has owned a restaurant in Mobile for more than 40 years, despite losing two to hurricanes. Roussos has been deemed an official "attraction" by the Alabama Bureau of Tourism and Travel and by the Alabama Travel Council, an honor few can boast.
Wintzell's, a landmark on Dauphin Street, not only has greatsea food, but a true personality under its roof.
Founded in 1938 by Oliver Wintzell, a goofy-looking sortwith an off-beat personality, he decorated his walls with homespun sayings.Some sound like fortune cooking sayings, others like drunken prophecies.Here's a good one for all you golf-happy males whose wives are shopping while you're playing - "A joint checking account is never overdrawn by the wife - it is under-deposited by the husband."
There are two locations, one near the airport and the original, to choosefrom.
Stay and play
Mobile has its share of hotels, like the Mobile Marriott, just 25 minutes from the airport. But the best way to find the hotel of your choice is through Don Faggard, the president of Fairways Golf Company, a highly successful golf trip planner.
For more information on the stay-and-play packages, call (800) 647-CHIP. To see the options in the Mobile area, which includes well-respected names like Holiday Inn, Hampton Inn and Radisson, visit http://www.fairwaysgolftravel.com/AreaLodging.asp?ID=MOBILE.
October 3, 2003